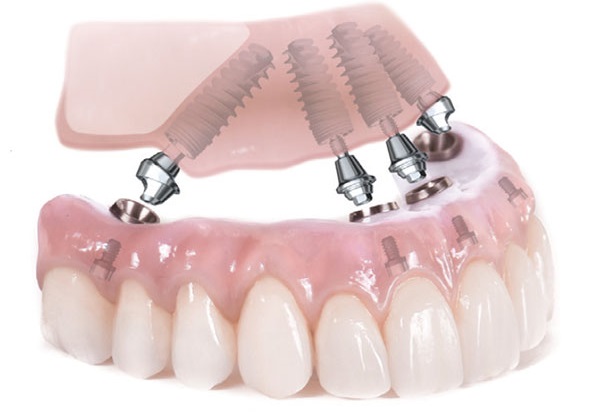 Full arch dental implants: An amazing smile makeover in a day
Traditionally, you're advised on snap-in dentures if you have missing or badly decayed teeth. But it's not your only option anymore. Full arch dental implants are an aesthetically perfect alternative to dentures to bring you a restored smile.
Full arch uses four to eight implants that are placed in your jawline to house replacement teeth for one dental arch. Two posts are screwed into the central part, whereas another pair is located as the fifth teeth. They can be used for the upper jaw, mandible or both.
The best thing? You can get full arch teeth in a day at Clear Dental. We can insert implants in a matter of hours, perfecting your appearance with a complete set of replacement teeth without multiple visits.
How is the full arch dental implant procedure carried out?
The full arch procedure requires one visit and is performed with local anesthesia. Once you're in a chair, our dentists will:
Fit four titanium screws into your jawbone. We will insert them one by one and ensure that the process is pain-free for you.
Place abutments in straight and angular positions. They will serve as the connection between an entire set of full arch dental implants.
Attach an arch of replacement teeth. We will then secure them with screws and add several finishing touches so that they look seamlessly.
For most patients, the full arch dental implant procedure doesn't require bone grafts. That means you can show off your new teeth and put them to the test with your favourite foods as soon as you get them. And because it's a minimally invasive technique, recovery time is reduced.
Are full arch implants for you?
If you're a good candidate for other implants, full arch method is likely to be suitable for you, too. These dental posts are created for those who have:
multiple missing, failing or badly damaged teeth per jawline
periodontitis or other gum problems that may eventually lead to tooth loss
tried other restorative treatments that haven't brought expected results
That said, not everyone who has been advised on dentures can get full arch dental implants. It's determined on a case-by-case basis, depending on the condition of your jawbone structure, overall health and some other factors. A single visit to Clear Dental is enough to find out whether full arch is your best bet.
Natural-looking teeth for your entire life
Once you have full arch implants, you will never need to replace them or get them adjusted, like with a removable dental prosthesis. They last a lifetime and are kept aligned with a unique fastening method. Receding gums can't affect the placement of the posts, meaning their connections will never become loose.
Still, you shouldn't neglect proper care. You will need to stick to your oral hygiene habits (flossing, brushing, etc.) and see our All-on-4 dental implant specialists for regular check-ups. full arch pearly whites require the same practices as your natural teeth.
Protect yourself from periodontitis
It's not uncommon for patients with poor oral health to undergo the full arch dental implants procedure to keep periodontitis at bay. This disease is closely tied to tissue inflammation around bacteria-affected teeth. full arch implants help maintain better oral hygiene to prevent abnormal bacteria buildup.
In other words, the full arch procedure may be an excellent choice for both missing teeth and diseases that cause them. If you're in a risk group for periodontitis, make sure to keep our dentists informed. We'll then devise your ideal treatment plan with the best full arch dental implants.
Eat what you love while looking your best
Forget about giving up on your favourite foods. With full arch implants, you can enjoy everything you want without worrying that chewing it can damage your new teeth. They will even increase your biting force by up to 70%.
Another great thing about All-on-Four implants is that they make you look younger. If you suffer from some jawbone loss, they will remedy the sagging areas on your face. The implants keep your dental condition from deteriorating while tackling visual flaws associated with it.
Any surgical or invasive procedure carries risks. Before proceeding, you should seek a second opinion from an appropriately qualified health practitioner.