Dental Implants | Frequently Asked Questions (FAQ)
1. Is Old Age a Problem?
Occasionally, older patients express concern that their age may prevent them from enjoying the benefits of dental implants. However, health is more of a determining factor than age. If you're healthy enough to have a tooth extracted, you're probably healthy enough to receive dental implants. Certain chronic diseases may contraindicate dental implant treatment. The dentist will determine if you are a candidate for dental implants after a careful evaluation of your dental and health history.
2. How Will Dental Implants Affect My Life?
Dental implant-supported replacement teeth look, feel and function like natural teeth. This means that you can eat and drink whatever you choose. But most importantly, dental implants improve quality of life in a very concrete way. People who have felt embarrassed and worried because of their tooth problems are often overwhelmed by what new permanent teeth can do for their self-esteem.
3. How do Dental Implants Work?
Because implants fuse to your jawbone, they provide stable support for artificial teeth. Dentures and bridges mounted to implants won't slip or shift in your mouth — an especially important benefit when eating and speaking. This secure fit helps the dentures and bridges — as well as individual crowns placed over implants — feel more natural than conventional bridges or dentures.
For some people, ordinary bridges and dentures are simply not comfortable or even possible, due to sore spots, poor ridges or gagging. In addition, ordinary bridges must be attached to teeth on either side of the space left by the missing tooth. An advantage of implants is that no adjacent teeth need to be prepared or ground down to hold your new replacement tooth/teeth in place. To receive implants, you need to have healthy gums and adequate bone to support the implant. You must also commit to keeping these structures healthy. Meticulous oral hygiene and regular dental visits are critical to the long-term success of dental implants.
4. What are the medical, dental, and social histories that may jeopardise dental implant success?
<17 of Age
Lack sufficient jawbone
Smoking
Pregnancy
Diabetes
Alcohol or drug abuse
Psychological illness
Hemophilia
Rheumatic fever
Heart problems or heart surgery
facial radiotherapy
Blood thinning medications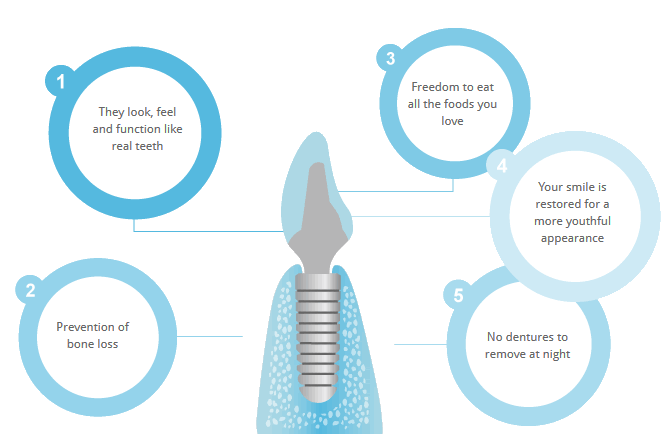 Any surgical or invasive procedure carries risks. Before proceeding, you should seek a second opinion from an appropriately qualified health practitioner.