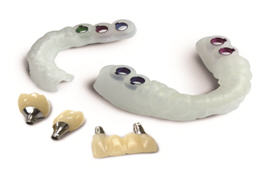 The Benefits of Dental Implants
Dental implants improve the look and the function of your mouth, giving you back your ability to eat properly and making you feel more confident. If you're thinking about getting this surgery, there are a number of things you should know about the benefits of the implant.
What are Dental Implants?
When you have dental implant surgery, your dentist attaches metal posts into your gums to replace your tooth roots. Once these are in place, artificial teeth can be attached to the new foundation, replacing damaged or missing teeth. Dental implant surgery is far more effective than dentures or other replacement teeth as the artificial teeth are much more stable and look just like real teeth.
Why does your Dentist Recommend Implants?
If your dentist recommends implants it's probably because your original teeth are too damaged or broken to fix. This type of damage can occur with age, but it can also be the result of poor nutrition or poor oral hygiene.
If your teeth are cracked or broken, it can have consequences for your overall health and wellbeing. These consequences include:
Malnutrition, because many foods are too hard to chew with broken teeth.
Loss of self-confidence or self-esteem.
Recurrent infections from the damaged teeth.
Impaired speech or breathing
The
Benefits of Dental Implants
There are a number of benefits of dental implants that other options just can't match. Some of the most important benefits include:
Strength. Dental implants are much stronger than dentures and if you look after them they'll probably last your whole life.
Convenience. Dental implants are actually a part of your mouth, so you don't have to worry about removing them to clean, or about them falling out on their own.
Greater comfort. Usually, dental implants replace dentures, which can rub against the gum or against other teeth.
A great appearance. One of the worst things about having cracked or rotten teeth is worrying about showing them when you smile. But one of the greatest benefits of dental implants is that that they look completely natural and you'll be proud to show them off.
They make it easier for you to eat all the foods you struggled to chew when you had dentures.
Improved oral health. Usually when dental implants are fitted it's because your teeth or mouth are in bad shape. But no matter what oral health problems you have, your dentist clear them away to make way for your new implants.
Improved speech patterns, because you'll no longer have clunky or loose dentures falling in the way.
They can preserve the health of adjacent teeth, because there's no bridgework involved.
They can help to prevent bone loss, which can alter the appearance of the face as well as weaken remaining dental structures.
If you're interested in improving the quality of your life and the quality of your smile, talk to our expert team today about the benefits of dental implants and how they can improve your oral health and your life.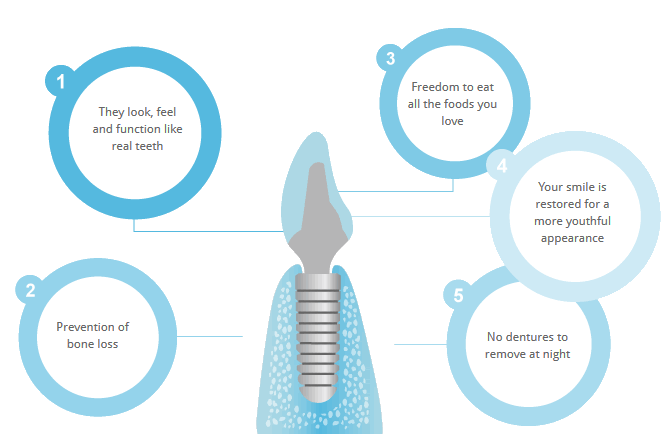 Any surgical or invasive procedure carries risks. Before proceeding, you should seek a second opinion from an appropriately qualified health practitioner.