Key Hole Full Mouth Implant Reconstruction
The full arch procedure offers a full set of upper or lower teeth using just four dental implants, and is complete in one day. The procedure is the optimal solution for providing a full fixed bridge for patients missing the majority of their teeth. It is a graftless procedure that utilizes the patient's' existing bone and a technique which tilts the posterior implants to avoid the need for a bone graft, making it a more comfortable and less invasive procedure than traditional implants.
If you have got many missing teeth or most of your teeth are badly broken down, then full mouth reconstruction using dental implant can be a solution for you.
For your upper jaw, you have the option of having 4 to 10 implants in order to secure a fixed dental bridge that supports 6 to 14 teeth, based on the quality and quantity of the bone.
For your lower jaw, you have the option of having 2-10 implants in order to secure a fixed dental bridge or a locator style removable denture.
The Full Arch Dental Implants Procedure
This all begins with a friendly consultation with our surgical dentist who will listen and discuss different treatment options with you. Once you are keen to go ahead, we will then taken some important records like CT scan, dental impressions, bite registration impressions, photos and sometimes a digital intrao oral scan.
All these records allow us to plan both surgical and prosthetic part of the implant procedure. CT scan is essential to exam the quality and quantity of your jaw bone, while other records take account for example how your jaw moves, how wide your mouth opens, lips coverage, lower 1/3 of facial height, midline, and most importantly how you will function and smile.
Once we finish the planning phase, we will then do a try in for your temporary denture which can then be converted to a bridge or a locator style prosthesis after your implant surgery.
Implant integration to your jaw bone will take between 2-6 months. During these times, our surgical dentist will conduct 1-2 reviews in order to ensure the healing is going well for you.
Prior to placement of permanent implant restoration, a quick procedure will be performed called ISQ, which measure implant stability (e.g. how well an implant integrates to your jaw bone). If the reading is high, then your are ready to receive your permanent dentition.
We focus on after treatment care and provide your with our warranty work. We encourage our implant patient to return every 6 months so we can check for infection or inflammation around infection and prosthetic issues like chipped porcelain, loosened bridge, and early wear of teeth.

The Advantages of the Full Arch
Implant Procedure
If your mouth and teeth are suitable for this procedure, it has many advantages. These include:
A fixed bridge is provided the day the implants go in, so no temporary dentures are required

The treatment is much cheaper than the older, full jaw arch procedures

Eating and speech are much improved

It helps to prevent further jaw bone loss

The resulting implants look and feel like real teeth

The implants don't need to be removed at night

You look much younger because your new teeth give your face more support and a better shape.
The Full Arch Dental Implants Cost
Unfortunately, until your mouth is examined by your dentist, it is extremely difficult to give even a rough guide to full arch implants price.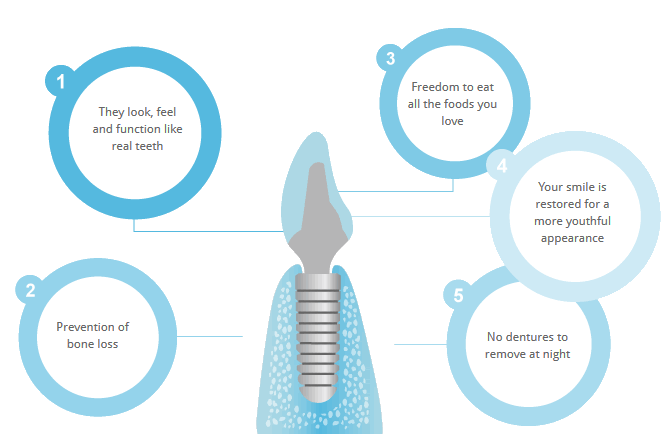 Any surgical or invasive procedure carries risks. Before proceeding, you should seek a second opinion from an appropriately qualified health practitioner.