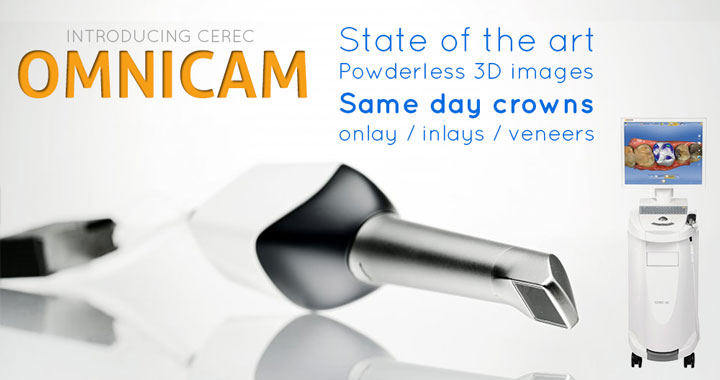 One Visit CEREC Crown and Restorations in Sydney
Chairside Economical Restoration of Esthetic Ceramics or CEREC is a relatively simple but amazing effective set of ceramic reconstruction services. These procedures allow your dentist to do restorations in a single visit using a variety of computer technologies. For people who are time poor, want less drilling, or just want the best solution possible for their dental concerns, a CEREC dental procedure is the answer.
Why use CEREC?
The old way of doing dental restorations was for you to have at least two visits. During the first visit your dentist would examine the affected area, put a temporary restoration in and send you away so the permanent ceramic filler could be made. This could take weeks in some situations, and it meant that you had to sit through at least two uncomfortable sessions in the dentist's chair.
But CEREC dental restorations are different. They allow your dentist to finish the procedure in a single session because everything is done using the latest technology. And as an added bonus, the restorations look totally natural, match the rest of your teeth, and are made from high-grade, non-toxic and durable materials.
CEREC and Your Smile
CEREC technology and procedures can be used when you need crowns or filings, but they're also useful when you want to improve any single tooth. Over time, your teeth can become cracked, chipped or discoloured, and CEREC can be used to repair the damage and restore the affected teeth, and your smile, to their former glory.
CEREC Technology and Procedures
CEREC doctors are specially trained in the use of sophisticated dental technology and procedures. The following is what you can expect from your visit:
First, the tooth is cleaned in preparation for the

CEREC crown

or restoration.
Second, the tooth is photographed and stored as a three dimensional digital model.
Specialized software then approximates the shape of the restoration and starts to design it while your dentist makes modifications when necessary. You can actually watch on the computer screen as the program designs your crown or restoration.
The finished design is sent wirelessly to the milling machine, which cuts out the precise shape of the restoration using diamond burs. This usually takes between four and twenty minutes depending on the size of the restoration and its complexity.
Then the

CEREC crown

or restoration is fitted to your tooth, restoring its original shape and returning it to full functioning.
How much Does a
CEREC Tooth Restoration Cost in
Sydney
?
CEREC dental restorations can actually be cheaper than the older procedures. Because you only need to make one visit for a CEREC procedure, and don't need to have messy impressions or temporary fillings made, it can actually be a very cost effective procedure.
The actual cost depends on the condition of your mouth, how much work you need done, and your health fund options, so talk to your dentist for a more precise idea of the costs involved.
If you've been trying to find a CEREC dentist, Clear Dental has a number of CEREC trained and experienced staff waiting to help you with your restoration needs. So contact our dental clinic today for more information on this exciting new procedure.