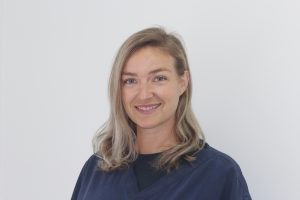 Ms. Aimee Macreadie
BOS (Charles Sturt University) & Dental Technician (Royal Melbourne Institute of Technology)
Aimee graduated from Charles Sturt University with a Bachelor of Oral Health Therapy & Hygiene and is also a qualified Dental Technician (RMIT, Melbourne). Aside from extensive treatment for hygiene and periodontal treatment for all ages and restorative and general dental for patients up to the age of 26, she is also able to help you understand how some prosthetics are made and how to maintain them.
Aimee grew up in regional Victoria and has had experience in public and private dental clinics. She prides herself in her friendly, caring approach and thinks dental shouldn't be a stressful experience, but one you can enjoy. She likes to make it fun and comfortable whilst providing the highest standard of care to all her patients.
Aimee's passion for dental is shown through her enthusiasm in discussions with patients outlining the best way to improve their oral health and considers prevention and education to be as important as the treatment itself. She prides herself in being able to soothe patients of all ages and abilities with dental anxiety and fear and works through it with them.
Aimee also is understanding of patients or parents of patients who may have learning difficulties or have special needs and will take the time to work through individual treatments that best suit their needs.
Outside of dental, she enjoys snowboarding, hiking, experiencing different foods and cultures through travel and you might even be able to convince her to do a pencilled portrait for you. For hearing impaired patients, Aimee is an intermediate Auslan speaker.