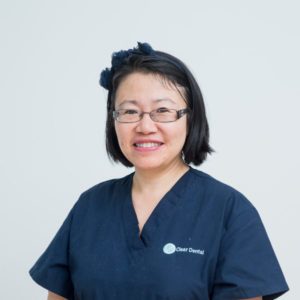 Dr. Sherry Guo
BDS (Sydney)
In 1999 Dr Sherry Guo completed her undergraduate Bachelor of Dental Surgery at the University of Sydney and in 2010 she obtained her Graduate Diploma from the University of Adelaide.
Sherry ran a successful practice in Canberra before relocating back to Sydney in 2012.
Dr Guo has extensive experience in wisdom tooth removal, emergency dentistry, crowns and bridges and also treating nervous patients.
In her spare time, Sherry enjoys spending time with her four young children, dog and working in the garden.
LIST OF DENTISTRY MEMBERSHIPS
Australian & New Zealand Society of Paediatric Dentistry
Smile Club Dental Study Group
Australian Dental Association