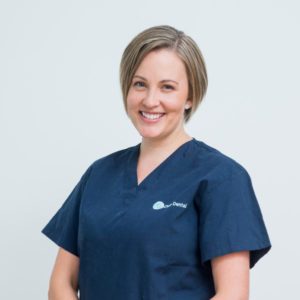 Dr. Lauren Minard
BSc (Macquarie), BDS (Hon)(Sydney)
Dr Lauren Minard graduated with a Bachelor of Dentistry with Honours from Sydney University. She also holds a Bachelor of Science specialising in genetics and molecular biology.
Having grown up in Sydney, Lauren moved to Wollongong where she worked in a private practice for several years before returning to the Bushland Shire. She spent a fair amount of time volunteering with dental groups overseas including a number of trips to Cambodia.
Lauren has a friendly and caring nature this ensures that her patients feel comfortable and confident in the treatment she provides. Lauren takes the time to listen and discuss any dental issues that may arise, and strongly believes in establishing good channels of communication and most importantly a long lasting rapport with every patient.
Lauren has a young family and enjoys working with children, ensuring that good dental habits are established for life.
Lauren is passionate about dentistry and good oral health and is committed to continually updating her knowledge by attending a range of continuing education courses. Currently she is working towards her Orthodontic qualification with progressive orthodontic seminars.
LIST OF DENTISTRY MEMBERSHIPS
Australian Dental Association
American Academy of Cosmetic Dentistry
Australasian Academy of Dento-Facial Aesthetics
American Society of Implant Dentistry