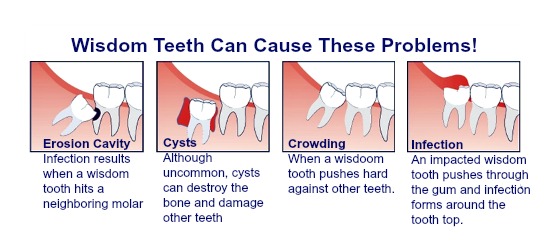 Wisdom Teeth Extraction | Dental Surgery Sydney
The removal of wisdom teeth, or third molars, is one of the most common procedures carried out in Australia. The wisdom teeth grow at the back of your gums and are the last teeth to come through. Most people have four wisdom teeth, one in each corner. Wisdom teeth usually grow through the gums during the late teens or early twenties. By this time, the other 28 adult teeth are usually in place so there isn't always enough room in the mouth for the wisdom teeth to grow properly. Because of the lack of space, the wisdom teeth can sometimes emerge at an angle or get stuck and only emerge partially. Wisdom teeth that grow through in this way are known as impacted.
Why are wisdom teeth removed?
Wisdom teeth that have become impacted or haven't fully broken through the surface of the gum can cause dental problems. Food and bacteria can get trapped around the edge of the wisdom teeth, causing a build-up of plaque, which can lead to tooth decay, gum disease or other problems. Your wisdom teeth don't usually need to be removed if they are impacted but they are not causing any problems. This is because there is no proven benefit of doing this and it carries the risk of complications. Read more about why a wisdom tooth might need to be removed.
When to see a dentist?
You should make an appointment to see your dentist if you're experiencing severe pain or discomfort from your wisdom teeth. Your dentist will check your teeth and advise you about whether they need to be removed. As with any teeth problems, it's important to see your dentist as soon as possible rather than waiting for your regular dental check-up.
How wisdom teeth are removed?
Your dentist may remove your wisdom teeth or they may refer you to a specialist surgeon for treatment in hospital. Before the procedure, you will usually be given a local anaesthetic injection to numb the area around the tooth. You'll feel some pressure just before the tooth is removed, as your dentist or oral surgeon needs to widen the tooth socket by rocking the tooth back and forth. In some cases a cut (incision) may be needed in your gum and the tooth may need to be cut into smaller pieces before it is removed. The time it takes to remove the tooth will vary. Some procedures only take a few minutes, whereas others can take 20 minutes or longer. After your wisdom teeth have been removed, you may experience swelling and discomfort, both on the inside and outside of your mouth. This is usually worse for the first three days, but it can last for up to two weeks.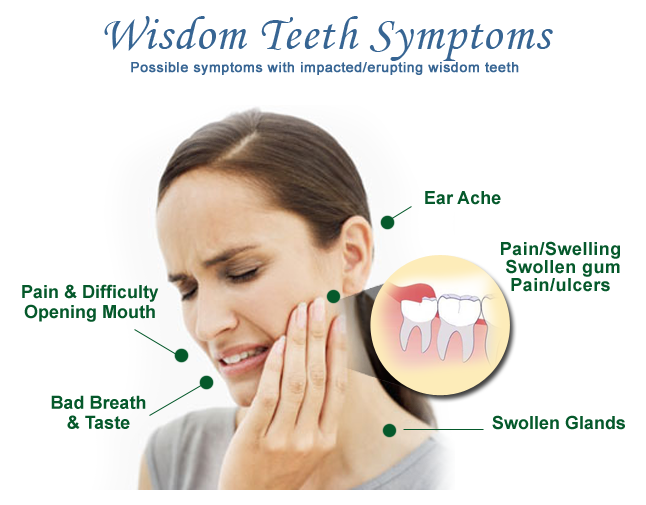 Complications of wisdom tooth removal
As with any procedure, removing your wisdom teeth carries some risks. However, these risks are usually small.
Risks can include:
Dry socket – where a blood clot fails to develop in the tooth socket, or if the blood clot becomes dislodged
Nerve injury – this can cause temporary or permanent problems such as pain and numbness
Infection – signs include a high temperature, yellow or white discharge from the site of extraction, and persistent pain and swelling bleeding
You should see your dentist if you have signs of infection after the procedure, or if you are bleeding heavily from the site of extraction.
Dry socket
Dry socket (alveolar osteitis) is one of the most common complications of wisdom tooth removal. It occurs when a blood clot fails to develop in the tooth socket, or if the blood clot becomes dislodged or disappears. This can happen three to five days after surgery. The empty socket causes an ache or throbbing pain in your gum or jaw, which can be intense. There may also be an unpleasant smell or taste from the empty tooth socket. If you look into the socket, you might be able to see exposed bone rather than a blood clot.
You're more at risk of developing dry socket if:
You don't follow your dentist's instructions after the extraction
You smoke
You've had the condition before
You're over 25 years old
The extraction was complicated
Contact us if you suspect you have dry socket. They can flush any debris out of the socket or cover it with a medicated dressing, which may be removed and replaced frequently until it heals.
Nerve injury
Although far less common than dry socket, injury to sections of a nerve called the trigeminal nerve is another possible complication of wisdom tooth removal. This can cause pain, a tingling sensation and numbness in the tongue, lower lip, chin, teeth and gums. In most cases the damage is temporary, lasting for a few weeks or months. However, it can be permanent if the nerve has been severely damaged. A nerve injury can interfere with your daily activities, making things such as eating and drinking difficult and painful. Every attempt will be made to minimise the possibility of nerve damage when your wisdom tooth is removed, and you should be informed about the risk of complications before the procedure.
Post-Op Instructions
If you are supervising children who have had an extraction done, make sure they don't bite on their numb lips or tongue (it can cause serious injury to their soft tissue).
Pressure should be placed on the gauze pad that has been put over the extraction site for one hour. If the bleeding continues new gauze should be placed and pressure applied for another 45 minutes.
Avoid eating or drinking anything hot on the day of your extraction. Also, do not rinse your mouth and do not use a straw for drinking. Do not spit and do not drink carbonated beverages. Do not brush on the day of the surgery; you can gently resume your brushing and flossing the day after.
You may experience some pain, bruising around your lips, and/or some swelling, especially after extraction of impacted wisdom teeth. Ice bag application and medication prescribed for you will help to minimize your discomfort.
Please take all the medication you have received based on the provided instructions.
During the first 2-3 days after surgery a diet of soft food and liquids is recommended (soup, yogurt, milkshakes and juice).
For more complex surgical procedures, including Impacted Wisdom Tooth Extraction, Implant Surgical Procedures, etc: You will receive an ice wrap which should be worn for the rest of the day until you go to bed on the day of surgery (10 minutes on and 5 minutes off). Instructions for various surgical treatments will have some unique directions, which will be supplied to you at the time of your treatment.
Call our office if you experience excessive bleeding, severe pain or swelling, or if you have any questions or concerns. In case of serious emergencies please call your local hospitals.