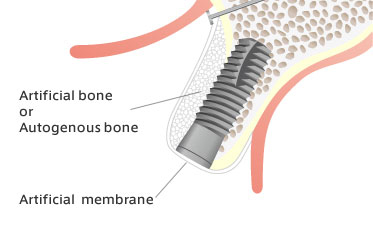 Bone Augmentation | Bone Graft
Some people do not have enough healthy natural bone to support dental implants.  Natural bone insufficiency can be caused by:
Gum disease
Tooth development defects
Wearing dentures long term
An injury to the face or trauma
Spaces left empty in the mouth after teeth are removed
Dental procedures where efforts were not made to restore natural bone
Several techniques are used to rebuild bone, restore your natural jaw line and smile, and provide a strong and sturdy foundation for implant-supported teeth.  Most patients proceed with everyday life and work often by the next day and continue throughout the months in between dentist appointments.
Bone grafting is a very predictable surgical procedure when done correctly and when patient cooperation is adhered to. Please try to be reasonable in understanding that this procedure has inherent risks associated with it, as stated in your informed consents. Some of these risks are also pertinent to your post-operative care.
Please remember that there are some instances when no matter what is done, the outcome is not perfect. There are even infrequent occasions when a surgery may have to be redone; these situations are neither the doctor's nor the patient's fault.
Below is an overview of some of the more common techniques to augment bone.
Bone Grafts
Bone grafting is a safe and highly successful procedure that involves the "building up" or adding bone to the jaw by using your own natural bone from another location and/or by using donor, processed or synthetic bone materials. Often the new bone can be obtained from inside the mouth.  Ask your dental implant dentist about the advantages of different bone grafting methods and materials so that, together, you can make an informed decision. Bone grafts are often performed in the implant dentist's office using local anesthesia to numb the areas that will be involved, sometimes along with intravenous sedation to remove anxiety.
After the procedure, you will usually be given antibiotics, pain medication if needed, and an antibacterial mouthwash, and instructed to avoid eating certain foods and putting pressure on the bone graft. You will return home in between dentist appointments while the bone graft heals and should be able to work and go about your everyday life.Your implants will be placed after the grafted bone has fused or become a strong, integrated part of the existing bone. The amount of time the integration takes varies depending on the location of the graft and the density of the bone. It may take three or more months.
Sinus Lift (Sinus Augmentation or Sinus Elevation)
Missing upper back teeth are among the most difficult to restore.  When the back teeth in the upper jaw are missing the sinus cavity becomes larger as the natural bone deteriorates over time. A sinus lift, also called sinus augmentation or sinus elevation, is a bone-augmentation procedure for patients who have insufficient natural bone in this area for dental implant placement. The procedure involves adding bone below the sinus so that one or more implants can be placed. The procedure does not affect speech, intonation or cause sinus problems.
After the bone has been given time to develop, usually for approximately four to 12 months, dental implants can be placed. Sinus augmentation, which many patients say causes only minimal discomfort, is designed to help ensure that your implants are long-lasting, with ample, strong and sturdy bone that will allow your new teeth to fit and function like healthy, natural teeth.
Ridge Expansion (Ridge Modification)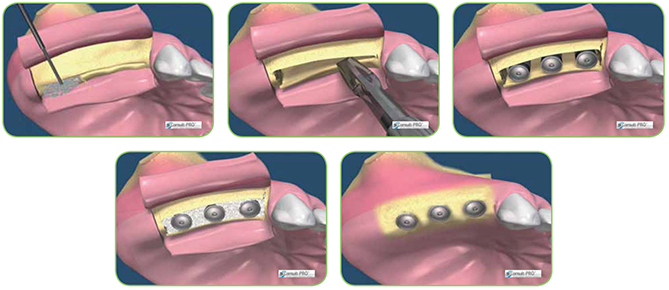 If the jaw isn't wide enough to support dental implants, bone graft material can be added to a small ridge, or space, that is created along the top of the jaw. In some situations implants can be placed right after a ridge expansion. Other situations require approximately four to 12 months to ensure that the ridge has fully healed first.  Like all bone grafting techniques, ridge expansion helps ensure a strong foundation and long lifespan for your new teeth. It also can be used to correct an unattractive and difficult-to-clean indentation that can occur in the jawline near missing teeth.
Post-Op Instructions – Bone Grafting Procedures
You have just had surgery completed for the reduction of periodontal pocketing and/or for replacement of bone in an area where pathology existed, or in conjunction with dental implant surgical placement with or without platelet addition to the bone graft. You will be advised of the particular procedure and pertinent directions relative to your treatment modality.
1.Please come back for suture removal if resorbable sutures do not come off after 14 days.
2.Please do not pull your lips or cheeks because undue pressure will cause the sutures to widen away from the surgical site, expose bone, create more pain, and delay healing dramatically.
3.You also may have a periodontal pack placed over the surgical site. The pack is pink in colour and impregnated with antibiotic, which will protect the surgical site from infection and any washout of the particulate bone utilized to restore your jaw. The pack should be left in place for as long as possible. If a pack is placed the doctor will remove the packing at your 1 week follow up and decide if the packing should be replaced or kept off. Usually the packing is kept on for 7 to 10 days at a minimum. You must return to the clinic if your pack falls off before you are seen for your 1 week follow up.
4.Please anti-septic gel should be placed over bone grafting site
5.Mouse rinse can only be used 3 days after the grafting procedure
6.You should not eat anything that is too large, too hot, or too sticky. Your food should be tepid or on the cool side. Any food that is too hot will have a deleterious effect on your surgical procedure.
7.Smoking after any oral surgical procedure will ALWAYS delay or disrupt normal healing due to a decrease in oxygenation of the tissue that is healing. Smoking should therefore be stopped for the first 7 to 10 days to allow for adequate initial tissue closure.