Porcelain Crowns | Sydney Dentist
Porcelain crowns are used to restore severely broken teeth. Our crowns are all made of porcelain, like veneers, and look every bit as natural, leaving no black line at the gum level as seen with some traditional crowns. Crowns are extremely versatile and can be used to align crowding or protruding teeth, close gaps or lighten tooth colour. The strength and appearance of our dental porcelain crowns rival that of natural teeth and they are used to make long lasting changes to the smile.
A crown is used to entirely cover or "cap" a damaged tooth. Besides strengthening a damaged tooth, a crown can be used to improve its appearance, shape or alignment. A crown can also be placed on top of an implant to provide a tooth-like shape and structure for function. Porcelain or ceramic crowns can be matched to the colour of your natural teeth. Other materials include gold and metal alloys, acrylic and ceramic. These alloys are generally stronger than porcelain and may be recommended for back teeth. Porcelain bonded to a metal shell is often used because it is both strong and attractive.
Your dentist may recommend a crown to:
Replace a large filling when there isn't enough tooth remaining
Protect a weak tooth from fracturing
Restore a fractured tooth
Attach a bridge
Cover a dental implant
Cover a discolored or poorly shaped tooth
Cover a tooth that has had root canal treatment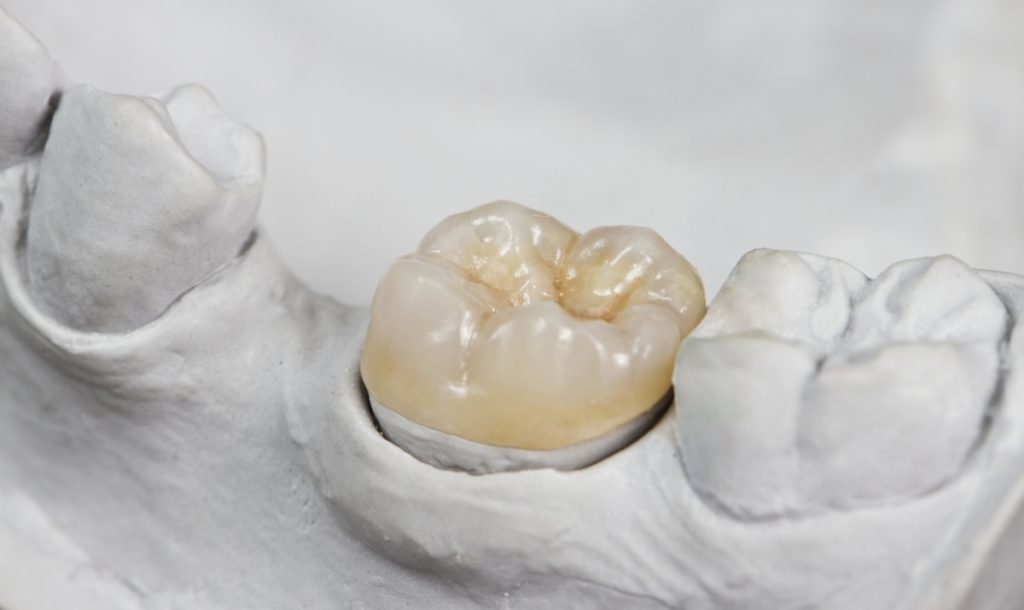 Post Op Instructions – Crowns and Bridges
Crowns and bridges usually take 2 or 3 appointments to complete. On the first appointment, the tooth/teeth are prepared, impressions are taken, and a temporary crown is placed on your tooth/teeth
You may experience sensitivity, gum soreness, and slight discomfort on the tooth/teeth; it should subside after the placement of the permanent crown(s).
Whenever anesthesia is used, avoid chewing on your teeth until the numbness has worn off.
A temporary crown is usually made of plastic-based material or soft metal. It can break if too much pressure is placed on it. The crown may also come off; if it does, save the crown and call our office. The temporary crown is placed to protect the tooth and prevent other teeth from moving. If it comes off it should be replaced as soon as possible. To avoid losing your temporary, do not chew on sticky or hard food (chewing gum, ice). Try to chew on the opposite side of the temporary as much as possible.
Continue your normal brushing but be careful while flossing around the temporaries (remove the floss gently from the side). If it is difficult to get the floss between the temporary and surrounding teeth, refrain from flossing until you receive your permanent crown.
After the permanent restoration is placed you may feel slight pressure for a few days. Also, the bite may feel different for a day or two. But if after 2-3 days the bite still feels uneven or if you feel discomfort when chewing on the tooth, call our office. Delaying the necessary adjustments may damage the tooth permanently.
Call our office if you are in pain or if you have any questions.