Dentures
Dentures are replacements for missing teeth (false teeth) and people get them for both their aesthetic and functional benefits. Dentures can replace a full set of teeth or sit among existing teeth (fill in the gaps). They can be crucial for regaining or maintaining the confidence that is often lost with missing teeth which can even result in changes to the shape of the face. Dentures can help a person to regain the basic ability to eat unhindered.
Full Dentures
Conventional Full Dentures require the removal of existing natural teeth to prepare the gum for dentures. After it is healed, a full denture is put in place. This results in a period of weeks or months of missing teeth.
Unlike the conventional full dentures, immediate dentures are attached on the spot as your teeth are removed. There is no waiting for the gum to heal, instead the patient returns after several months when slight adjustments may need to be made after the healing and growth of the gum. The best part about immediate full dentures is that there is no waiting time where you are left without teeth.
Partial Dentures
Partial Dentures Partial dentures are most appropriate for people who have some of their natural teeth remaining. These existing teeth are used in conjunction with the metal frame work to support the denture.
Implant Supported Dentures
Implant supported dentures (or simply implant dentures) are a type of full overdenture that is secured in place by dental implants instead of simply resting on the gums as conventional dentures. Implant supported dentures can be used in either the lower or upper jaw, but generally upper jaw dentures need a larger number of denture implants for adequate support. The choices of retention are bar, attachments, balls, and magnetic.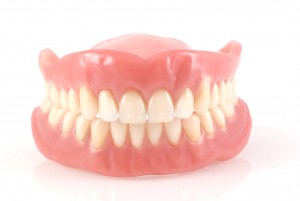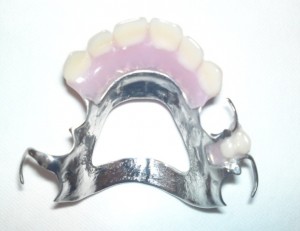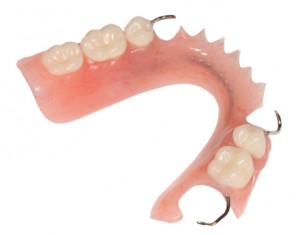 Post-op Instructions
You will experience some discomfort with any new denture for a few days. All new dentures need several adjustments to completely and comfortably fit your mouth.
You should take the dentures out every night and keep them in a clean container filled with water or denture cleaning solution. Your gums need to rest and be without the dentures every day for a period of time.
Clean dentures thoroughly with a brush and water before putting them back in your mouth. The general rule is: brush, soak, brush. Always clean your dentures over a bowl of water or a folded towel in case you drop them.  Brush your dentures before soaking, to help remove any food debris.
Soak the dentures in a specialist cleaner for a short time if you prefer and then brush the dentures again – as you would your own teeth, being careful not to scrub too hard as this may cause grooves in the surface.  Make sure you clean all the surfaces of the dentures, including the surface which comes into contact with your gums.  This is especially important if you use any kind of denture fixative.
It may be difficult to talk normally with the new dentures for a few days. One way to practice is to read a book or newspaper out loud for a period of time everyday. Your tongue and muscles will get used to the new dentures and you will talk normally very soon.
It is important not to use any type of bleaching product to clean your dentures.  Bleaching can lead to weakening of the denture as well as making it look unsightly.  Do not use very hot water to soak the denture. Again, it can weaken the denture causing it to break.
Call our clinic if you are experiencing pain, discomfort, or if you have any questions.
Book an appointment
Book an appointment