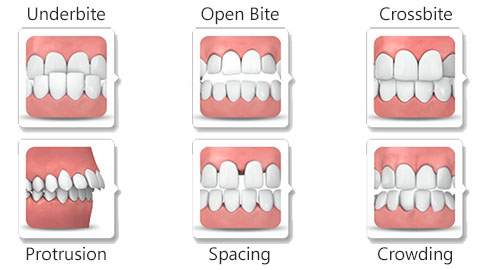 Overcrowded teeth
This occurs when there's simply a lack of room within your jaw for all of your teeth to fit normally. When left untreated, overly crowded teeth can lead to plague accumulation, tooth decay and an increased chance of gum disease.
Widely spaced teeth
The opposite of overcrowded teeth, widely spaced teeth occur when you have extra space within your jaw due to small-sized teeth, abnormal growth of the jawbones, genetics, missing teeth, and/or tongue protrusion. Missing teeth causes the surrounding teeth to shift due to the extra space, creating gaps in your teeth that can lead to gum problems (due to a lack of protection by the teeth), periodontal pockets, and increased risk of periodontal disease.
Crossbite
This occurs when the upper and lower jaws are misaligned. It causes one or more upper teeth to bite on the inside of the lower teeth, and can happen on both the front and sides of the mouth. Left untreated, this issue can cause wear of teeth, gum disease and bone loss.
Overbite
Overbite occurs when the upper teeth bite over the lower teeth. It's typically caused by genetics, bad oral habits, or overdevelopment of the bone that supports the teeth. This can lead to gum problems or irritation, and/or wear on the lower teeth, and can cause painful jaw and joint problems.
Underbite
The opposite of overbite, underbite occurs when the lower teeth protrude past the upper front teeth. It's usually caused by the undergrowth of the upper jaw, overgrowth of the lower jaw, or both. It can also be caused by missing upper teeth. This can prevent the normal function of front teeth or molars that can lead to tooth wear. It can also cause painful jaw and joint problems.
If you have been dreaming about a beautiful smile for a long time, but you can't resolve wearing traditional braces, we have an ideal solution for you. Invisalign trays appear to replace conventional teeth braces allowing to make the same progress. Aligners have proved successful for bite correction in the following cases:
Gapped Teeth
Under and Overbite
Open and Cross Bite
Overcrowded Teeth
Aligners are custom-made for you. They straight your teeth making gentle pressure on them to put in place. Invisalign trays are perfectly engineered to shift your teeth slightly moving them horizontally or vertically or rotating them if needed.
Our Invisalign dentist working in Sydney CBD can consult you and if your bite can be corrected with the help of Invisalign trays, our doctor will make imprints of your teeth. And we will send your imprints to the laboratory in the US where your aligners will be manufactured. They will be manufactured using the 3-D model of your jaws.
You should wear the trays minimum 20 hours a day to get faster results. Don't forget to take them out while eating or drinking. Brushing your teeth after a meal will help eliminate staining. You control the process of treatment as opposed to the usual braces. You can take them out when you're going to a party, etc.
Main advantages of Invisalign trays
They don't affect the speech as well as your overall look.
You can see the first results in two weeks.
Aligners are easy to clean.
They are removable. Take them out anytime you need.
You don't have to spend long hours at your dentist adjusting them.
Now you can order Invisalign trays in Sydney CBD at the affordable prices. Our dental clinic is the first to start using Invisalign in North Sydney. We are waiting for you at 101/127 York Street, Sydney. If you get interested, schedule an appointment right now! You can do it via phone (02) 9283 6220.